Quartz is a hard, shiny crystal. It is used in making electronic equipment and very accurate watches and clocks. But Quartz is also a very talented and experienced musician. And what's even better? He will perform in Somium Space on Friday July 2nd, 22:00 CET.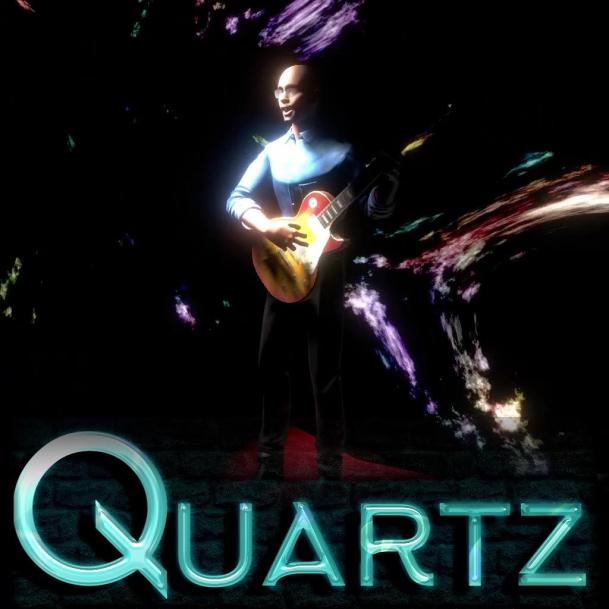 Quartz is a singer and multi-instrumentalist with many years experience as a semi-professional musician in RL. He plays keyboard, electric lead & bass guitar, acoustic guitar and (occasionally) drums. Quartz is also a songwriter and has composed numerous of his own original songs. His genre is an eclectic range of classic, progressive & indie rock, from the cassette years to now. Quartz' powerful rich voice will grip any aficionado of these genres. This coupled with his witty, albeit slightly bent sense of humour creates a show that is highly entertaining.

From the Quartz Live website
Quartz, a Canadian citizen, is not unfamiliar with performing in virtual environments as he has been part of the live music scene in Second Life.
Performing in Somnium Space however, will represent another level with a truly immersive environment, very little latency and direct feedback from and interaction with an enthusiastic, welcoming audience.
The Live Show
The live performance will be on July 2nd, at 22:00 CET. The location will be Djembe's Live Music Venue on parcel 476.
You can join via the PC client in VR or 2D mode. See the below map for the location.
Note that there is a teleportation hub nearby. So if you're at Somnium Waypoint, use the teleportation hub to jump to a location in the vicinity of Djembe's venue.
Sponsor Tickets
To sponsor the event, you can buy special sponsor NFT's on OpenSea. They're video NFT's with sound and include several original recordings from Quartz' album as unlockable content to download and enjoy.
If the sponsor tickets are beyond reach or have been sold out, you can also donate by buying a Quartz Live Show Donation Ticket NFT, which are available under the same OpenSea account, but on the Matic Network. The great advantage of those tickets is that there is virtually no gas fee involved.
By purchasing a ticket (either the sponsor ticket with unlockable content or the donation ticket) you are directly supporting Quartz as well as the Djembe's Live Music Venue.