Cubes are Somnium Space's native utility token. Ever since its inception it has started to play an ever bigger role in the Somnium economy. And while some people with short term speculative glasses seem only interested in 'when moon?' and see their moods swing with every up and down of the volatile crypto market, many have understood that it is not about the 'rate of the day', but about the underlying product and utility it offers.
Somnium Space continuously improves their platform. They have a clear vision for the future of an open, decentralized Metaverse, keep putting their heads down and work hard to deliver on that vision.
It speaks for itself that expansion of the Somnium economy is paramount for future success. A range of community initiatives and businesses have come to fruition over the past years, but to further boost activity, Somnium Space started the Creators Fund in 2021.
Creators Fund 2022
The true determination and force of the team behind the Somnium platform, along with its investors, once again comes into full focus. Aspiring Metaverse entrepreneurs/startups better pay attention.
Yesterday Somnium Space announced the next installment of the Somnium Space Creators Fund, a VR show that can best be described as "Shark Tank meets Late Night Show". They revealed not only that Polygon, Winklevoss Capital & Vinny Lingham joined the fund as investors, but also that they bring the total Creators Fund budget to $1M in Somnium Cubes.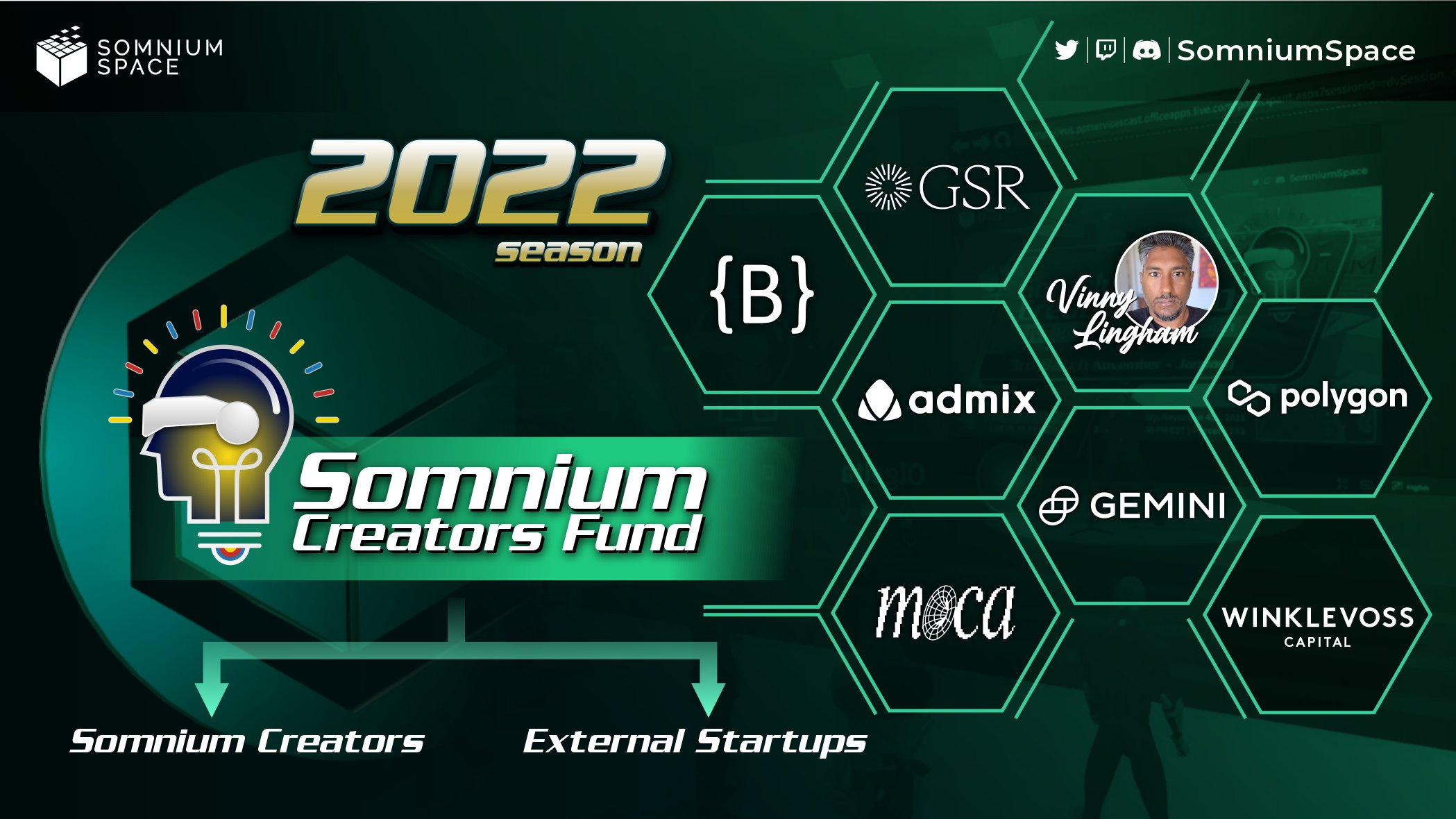 Everyone with a Metaverse business idea can apply using the application form. If your idea is selected, you are expected to pitch your idea in VR
The Creators Fund is a program where Creators & Startups will have opportunity to pitch their projects / companies LIVE in front of investors panel from Somnium and partner companies involved. Everything directly while being in Virtual Reality inside Somnium Space! Deals will be made right there! Imagine Shark Tank meets Late Night Show all in VR. – Somnium Space
This isn't child's play. This is a full blown challenge to present the very best ideas and get serious funding right on the spot in the very heartland of Somnium Space. All investors have made their name already. They represent the best of the best in the world of blockchain, crypto, NFTs.
Pitch Round
First VR pitch round will take place in March. You should follow Somnium Space on their social channels as well as join their Discord to not miss precise dates and other important information.
Follow Somnium Space on: Twitter: https://twitter.com/SomniumSpace
Join Somnium Space Discord channel: https://discord.gg/somniumspace
Follow Somnium Space on Twitch: https://www.twitch.tv/somniumspace
Follow Somnium Space on Instagram: https://www.instagram.com/somniumspace/